Duo
Igor Ruhadze and Evelina Vorontsova have known each other for many years! For a good duet, not only the excellent performance of each performer is important, but also the talent to hear and listen to each other, to live music as one soul. Both artists graduated from Central Music School in Moscow, and later on graduated with honours from the Moscow State Conservatory. A busy solo career and prizes at international competitions did not interrupt the joint music-making. Despite Igor Ruhadze's interest also in historical performance, the Duo has been successfully performing in Holland and outside the country for many years, referring mainly to the repertoire of the 19th century and the first half of the 20th century!
EVELINA VORONTSOVA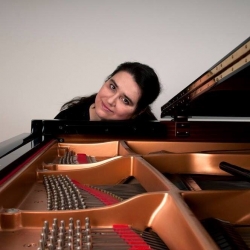 "A pianist for Rachmaninov." Evelina Vorontsova is considered as one of the finest interpreters of Russian composers by music critics and piano lovers alike. Her cantabile legato and intense virtuoso style bear witness to a highly romantic approach to music. Two well received albums with works of Rachmaninov, Scriabin, Tchaikovsky, Chopin, Bach and Scarlatti place Vorontsova in a distinguished tradition of Russian pianists. The critically acclaimed album Rachmaninoff (2016) received 5 out of 5 stars in International Piano and has been compared to recordings of Berman and Kocsis. Yehudi Menuhin was so much impressed by her talent that he invited her to play at his festival in Moscow.
Vorontsova performed solo recitals worldwide including performances at the Great Hall of the Tchaikovsky Conservatory, Concertgebouw Amsterdam, Teatro Comunale Bologna and Suginami Koukaidou. As a soloist, Vorontsova performed with international orchestras conducted by Yehudi Menuhin, Lev Markiz, Jan Stulen, Stewart Robertson and Alexander Wakulsky. Vorontsova loves the energy of chamber music and performed with hundreds of musicians and ensembles, among whom Herman Krebbers, Sidney Harth, Marina Shaguch, Valentin Zhuk, Vera Beths, Natasha Korsakova, Leonid Kerbel, and Sergei Ostrovsky. A highly versatile pianist Vorontsova also plays jazz and promotes jazzy classical composers such as Nikolai Kapustin.
Evelina Vorontsova comes from a family of pianists. At the age of eleven, she played her first concerto on TV with an orchestra straight from the Great Hall of the Tchaikovsky Conservatory. Vorontsova graduated cum laude at the Central Music School for Talented Children, the Tchaikovsky Conservatory (gold medal), and the Conservatory of Amsterdam. She is a prize winner of various competitions including the International Franz Liszt Competition in Utrecht, the (all-Russian) Rachmaninov Competition in Moscow, and the Cantù International Piano & Orchestra Competition. Since 2022 Evelina Vorontsova is teaching at the Utrecht Conservatory.
IGOR RUHADZE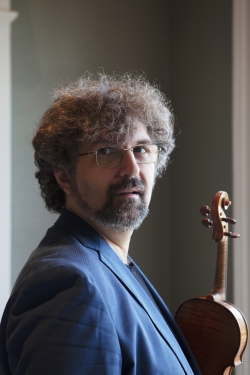 Igor Ruhadze began his career as a solo violinist at the age of 12, performing Vieuxtemps Concerto No.5 with the Odessa Symphony Orchestra. Igor has won prizes in several international violin competitions, notably receiving 1st prize in the Taneyev Internațional chamber-music competition (Kaluga-Moscow 1996) and the top prize in the International Locatelli competition (Amsterdam 1997).
As a soloist, he successfully combines historical performance with a wide range of contemporary repertoire. He graduated from Central Music School in Moscow, and later on graduated with honours from the Moscow State Conservatory. In 2002, Igor graduated with honours from the Amsterdam Conservatory as a specialist in early music.
Igor Ruhadze performs in many European countries, and tours around the world as a soloist performing violin repertoire from the Renaissance to modern music. He regularly appears at festivals giving solo recitals, such as a Tartini program for unaccompanied violin (Flanders Festival), and the "Russian Tartini - Handochkine" (New York).
Igor leads different orchestras both as a soloist and as a concertmaster in programs from Bach to Faure and Tchaikovsky. Igor also recorded a Dutch version of the Matthew Passion by J.S. Bach (CD and DVD). He also took part in the Dutch film "Erbarme Dich" directed by Ramon Geeling.
Igor performs chamber music with many different groups, leading his own group "Ensemble Violini Capricciosi".
Igor Ruhadze has recorded a vast number of CDs and DVDs with various labels. His regular collaboration with Brilliant Classics has yielded several successful projects, particularly the unique Complete Locatelli Edition on 21 CDs which received many excellent reviews. His latest Biber Complete Violin Sonatas also won critical acclaim. In January 2020, the Complete Violin Concertos by J.M.Leclair was successfully released. In his latest Brilliant Classics album (2022), Igor and harpsichordist Alexandra Nepomnyashchaya turned to another pivotal figure in Baroque violin culture, Francesco Geminiani. This has already received warm praise.
Igor Ruhadze plays on a violin by Jacobs, Amsterdam 1693, courtesy of the Nationaal Muziekinstrumenten Fonds.