Biography Igor Ruhadze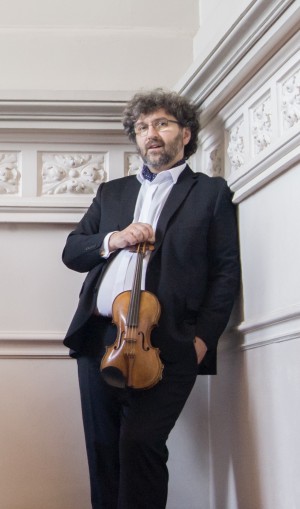 Igor Ruhadze began his career as a solo violinist at the age of 12, performing Vieuxtemps Concerto No.5 with the Odessa Symphony Orchestra. Igor has won prizes in several international violin competitions, notably receiving 1st prize in the Taneyev Internațional chamber-music competition (Kaluga-Moscow 1996) and top prize in the International Locatelli competition (Amsterdam 1997).
As a soloist, he successfully combines historical performance with a wide range of contemporary repertoire. He graduated from Central Music School in Moscow, and later on graduated with honors from the Moscow State Conservatory. In 2002, Igor graduated with honors from the Amsterdam Conservatory as a specialist in early music.
Igor Ruhadze performs in many European countries, and tours around the world as a soloist performing violin repertoire from the Renaissance to modern music. He regularly appears at festivals giving solo recitals, such as a Tartini program for unaccompanied violin (Flanders Festival), and the "Russian Tartini - Handochkine" (New York).
Igor leads different orchestras both as a soloist and as a concertmaster in programs from Bach to Faure and Tchaikovsky. Igor also recorded a Dutch version of the Matthew Passion by J.S. Bach (CD and DVD). He also took part in the Dutch film "Erbarme Dich" directed by Ramon Geeling.
Igor performs chamber music with many different groups, leading his own group "Ensemble Violini Capricciosi".
Igor Ruhadze has recorded a vast number of CDs and DVDs with various labels. His regular collaboration with Brilliant Classics has yielded several successful projects, particularly the unique Complete Locatelli Edition on 21 CDs which received many excellent reviews. His latest Biber Complete Violin Sonatas also won critical acclaim. The Complete Violin Concertos by J.M.Leclair was successfully released in January 2020 and in February 2023 came out the latest album Complete Music for 2 Violins with the ensemble Violini Capricciosi. Both the latest Brilliant Classics album (2022 and 2023), Igor and harpsichordist Alexandra Nepomnyashchaya turned to other pivotal figures in Baroque violin culture: Francesco Geminiani and Luigi Boccherini. Both of them have already received warm praise.
Igor Ruhadze plays on a violin by Jacobs, Amsterdam 1693, courtesy of the Nationaal Muziekinstrumenten Fonds.