Ruhadze & Nepomnyashchaya NEW CD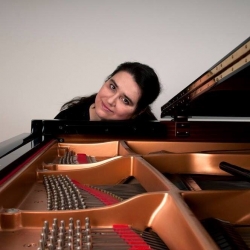 Geminiani: Violin Sonatas Op. 1
Since 2020, Igor Ruhadze has been working with great pleasure together with the magnificent harpsichord pianist, a specialist in historical performance, Alexandra Nepomniachtchaya
With his latest Brilliant Classics album, the Dutch (Soviet Union-born) Baroque-specialist violinist and director turns to another pivotal figure in Baroque-era violin culture, Francesco Geminiani. Taught first by his violinist father and then by both Corelli and Alessandro Scarlatti in Rome, Geminiani was already a leading figure in north Italian courts in his 20s, before he undertook the move to London that made his name and fortune. Apparently designed as a calling card for Geminiani's talents as a violinist-composer, the Op.1 Sonatas still make strenuous technical but also expressive demands on any interpreter. Their genteel surface and polished dialogue between parts conceal an array of sophisticated contrasts between moods and demonstration of a violinist's credentials as an artist as well as a technician.
For this new recording, Igor Ruhadze is joined not by his colleagues in the Violini Capricciosi ensemble but by the Russian-born harpsichordist Alexandra Nepomnyashchaya. Having pursued graduate studies with early-music luminaries such as Richard Egarr and Menno van Delft, she too evinces intense sympathy with Geminiani's idiom.
https://open.spotify.com/album/6jvAp3ZqpDGL0cSDWaYCbb

NEW!!! 2021 - The Year of Three Composers
The program is dedicated to three great composers who would celebrate their anniversaries in 2001. This year, the famous Russian Sergei Prokofiev would have turned 130 years old. The renowned French composer Camille Saint-Saëns died in 1921, and in the same year, the important Armenian composer Arno Babajanian was born. Violinist Igor Ruhadze and pianist Vital Stahievitch have prepared an interesting program featuring the works of these three significant figures. During the concert, we will also tell about their lives, works, and aspirations.
The program is based on special historical crossovers. What a coincidence that in 1921, when one of the most important composers of French Romanticism passed away, Arno Babajanian was born in the far away Yerevan, and the young Prokofiev completed his opera "The Love of the Three Oranges". All three composers knew each other's works, although they belong to different eras and styles. Saint-Saëns, for example, strongly disapproved of Prokofiev's work. And Babajanian, on the contrary, got very well acquainted with him after Prokofiev's return to the Soviet Union, and some of his works were influenced by the music of Prokofiev.
Next to the concert, an exhibition will take place in the concert hall by the amateur artists of the Olga Meshkova Artlama Studio Almere. The students of the Art studio are asked to draw the melodies - the resulting exhibition is called "We draw music". Before and after the concert, the paintings will be exhibited in the hall and the audience will get free catalog leaflets.
PROGRAM
Camille Saint-Saëns – Violin Sonata No. 2 in E-flat major (1896), Op. 102, R 130
Sergei Prokofjev – Sonata n. 1 f- moll op.1 (piano solo)
Arno Babajanian – Sonata for violin and piano in b-flat minor
CONCERTS
2 July Almere NPKA De Wegwizer for more info
https://www.npka.nl/concerts/2021-the-year-of-three-composers
18 August Goede Rede Concerten
https://www.goederedeconcerten.nl/evenementen/igor-ruhadze-vital-stahievitch-het-verhaal-van-3-muzikanten/
9 September Kamermuziek hertogenbosch
https://www.kamermuziekshertogenbosch.nl/index.php/202109-september
19 September Concertgebouw Amsterdam
https://www.concertgebouw.nl/concerten/igor-ruhadze-vital-stahievitch-drie-componisten-duo-s-voor-viool-en-piano/19-09-2021
30 Oktober De Beleving Zeewolde
https://m.facebook.com/events/1032452810928655
31 Oktober Almere Sint Bonifatius kerk
https://www.npka.nl/concerts-2021-22/igor-ruhadze-vital-stahievitch
24 December Bantsiliek kerk Bant CANCELLED
20 February 2022 Bantsiliek kerk Bant
https://www.npka.nl/concerts-2021-22/igor-ruhadze-vital-stahievitch-cpmyz
22 April 2022 Podium Poort
https://apps.ticketmatic.com/widgets/nationale_theaterkassa/addtickets?event=637599229438#!/addtickets
Met dank
Cultuurfonds Almere en Provincie Flevoland